DAC d1-twelve and system-twelve
NEW / DSD READY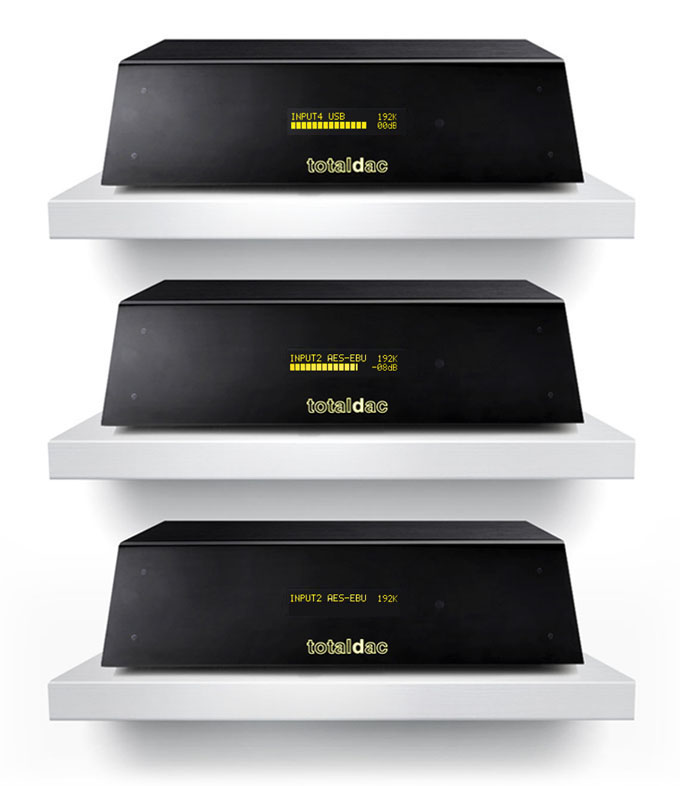 The d1-twelve DAC is composed of two monoblocs and a specialized reclocker, so it is a 3 box system just like the d1-monobloc.
This time the d1-twelve uses 6 discrete resistor R2R ladders per channel, so a total of 12 ladders for the system and in other words
roughly 600 Vishay Foil resistors per system (400 resistors for the d1-monobloc), probably unique in the world.
So many DACs in parallel allow to lower the noise and the impedance, so much that an output stage is not required,
so there is no tube nor transistor nor any other active components in the output stage. No feedback as well.
Please talk to Totaldac to optimise this special output to your preamplifier or amplifier being unbalanced or even balanced.
The d1-twelve has been designed for the most resolving speakers, so the most difficult to satisfy, to get the largest amount of information
and at the same time a sweetness never heard before.
So the d1-twelve will be found in systems with the best triode (pre)amplifiers, the best high efficiency speakers, the best fullrange drivers,
ceramic drivers... usually the domains of the best analog sources.
The d1-twelve was playing at the Munich show 2014, see comments from reviewers here: listening
The noise measurement in the center of the audio band is so low that it is below Totaldac noise analyser capability,
so the noise is so low that it is difficult to measure.
The system-twelve is a complete source based on the d1-twelve DAC and includes:
-a d1-twelve DAC in three boxes
-a d1-server music server with a 25cm USB cable/filter, a 2m USB cable/filter, a NAS, a router and two ethernet cables
-the cabling between each element of the system-twelve
-the bass compensation system (bass boost) built in the DAC
-the DSD option for both DAC boxes